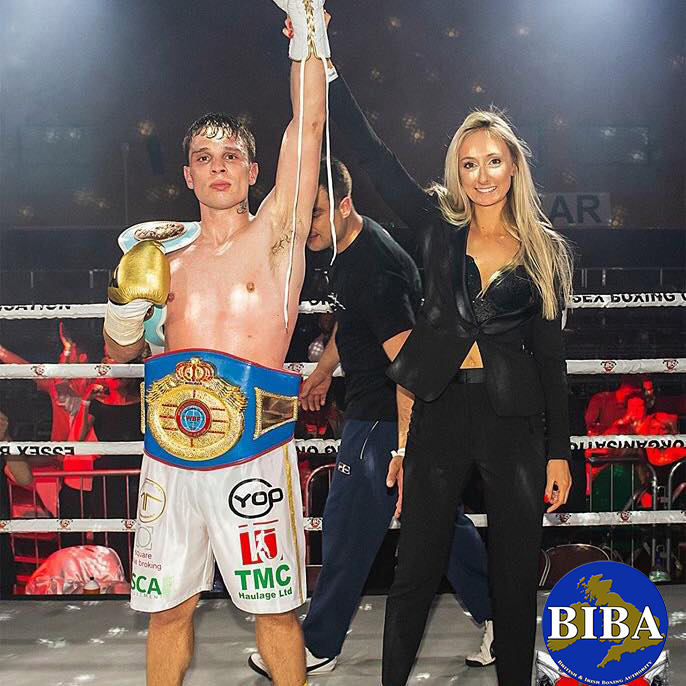 | | |
| --- | --- |
| global ID | 743523 |
| alias | 'Sweet T' |
| debut | 2016-03-11 |
| division | super welterweight |
| residence |  Colchester, Essex, United Kingdom |
| birth place |  Colchester, Essex, United Kingdom |
| | |

Schedule
date
kilos
opponent
kilos

record

location
rounds
tickets
2019-06-22
Nathan Decastro

15-0-0

Prince's Theatre, Clacton-on-Sea
12×3
www.tkoboxoffice.com
World Boxing Union (WBU) Championship of the World 

World Boxing Foundation (WBF) Championship of the World
 scheduled bouts subject to change & commission approval
scheduled bouts subject to change & commission approval
Career Record
10 WINS  1 LOSSES  0 DRAWS
Date:                    Opponent                Location                                Result                     Rounds
2019-03-09       Scott McIntyre  Charter Hall, Colchester.                    Win                            6/6
Referee: Lee Murtagh – Points 60-54
2018-11-17       Michael Kelly   Princess Theatre, Clacton-on-Sea       Win                            2/6
Referee: Lee Murtagh – RSC – 2 minutes and 56 seconds of second round

2018-06-30       Godwin Cudjoe       Charter Hall, Colchester                Win                            1/10
World Boxing Foundation (WBF) International Silver Super Welterweight Championship
Referee: Lee Murtagh – Judges: Wayne Alexander – Julius Francis – Roger Barnor (Ghana) – TKO 1 Minute and 11 Seconds of the First round.

Notes: Original opponent Bilal Mohammad (30-8-0) failed to receive his visa in time, Godwin Cudjoe stepped in with just one days notice.
Godwin Cudjoe was overweight by 5lbs, however the WBF supervisor Mr Murphy decided to allow the contest to go ahead due to the above mentioned situation.
2018-04-28        Matar Sambou        Charter Hall, Colchester                Win                             8/8
World Boxing Foundation (WBF) European Super Welterweight Championship
International Masters Super Welterweight Bronze Championship
British Masters Super Welterweight Bronze Championship
Referee: Lee Murtagh – Judges: Wayne Alexander 77-74 Ken Curtis 79-74 Julius Francis 80-76
2018-02-17        Gareth Gardner  Troxy, Limehouse, London                  Win                            8/8
International Masters Bronze Super Welterweight Championship
Referee: Gareth Morris – Judges: Ken Curtis 80-74, Terry Clark 80-73, Wayne Alexander 79-75

2017-10-14       Matar Sambou     Effingham Park Hotel, Crawley           Loss                           6/8
British Masters Bronze Super Welterweight Championship
Referee: Ken Curtis – RSC 2:05 of Sixth round
2017-05-06           Chris Wood     Effingham Park Hotel, Crawley             Win                           8/8
Referee: Ken Curtis – Points  78-77
British Masters Bronze Super Welterweight Championship
2017-02-04       Michael Robinson  Effingham Park Hotel, Crawley         Win                            1/6
Referee: Ken Curtis – KO  2:10 of First round
2016-12-03           Chris Wood  K2 Arena, Crawley, West Sussex, UK      Win                           6/6
Referee: Ken Curtis – Points 60-56
2016-06-25     Ebenezer Amedor       York Hall, London                            Win                           2/4
Referee: Wayne Alexander  – TKO 57 seconds of Second Round

2016-03-11      Ryan Lyall                   York Hall, London                            Win                           4/4
Referee: Wayne Alexander – Points 40-37
Save
Save
Save
Save
Save
Save
Save
Save
Save
Save
Save
Save
Save
Save